Assalamualaikum Parents, teachers, and students.
Nowadays technology is at its peak. Technology can streamline schedules, simplify work and home businesses, coordinate activities, and much more. As a student or a teacher, you must be acquainted with this new generation. At this time learning skills is important for us. Our school management has decided to make you aware of the coding skills. which are really helpful for you students especially in your future studies and life.
Coding can be any code written in a language to be understood by the person or system it is meant for. … The benefits of learning coding are many and the most beneficial ones. Coding helps you build applications, put them over servers, and use them so that multiple users can use them and get the benefits.
Inshallah, there will be a meeting section on the Google Meet platform. Students from class 8th to 10th join the meeting by the link given below. This program is organized by code Karo yaaro platform.
DATE: July 31
TIMING: 3:00 pm
Code Karo yaaro is a platform where a child will learn how to code, think and develop high end applications . We at Code Karo yaaro have more then teaching technology. And our mission is to make every kid the next technopreneaurs.
CKY workshop registrations have begun and students from Class 4 to Class 10 are eligible to participate. 10,000+ premium schools all across india have registered for this program and this is an invitation for your school to participate.
CKY will comprise of a 1-day workshop that will be conducted online.
Our main motive is to provide students an introduction to coding. It will be a three days coding workshop, class 4 to 7 and class 8th to 10th will be taken together.
The slot is available for next, the session will be conducted for 2 hours, Also we will be organizing a quiz for students , and it will be conducted on 1 week of August, later the students will be given assignments on coding and the best candidate will be selected for the quiz that will happen in Pan India level, the winner will get 100% scholarship program for learning this coding language.
There is no participation fee, and this is an excellent opportunity for your school and your students to prove their mettle competing among the best and shine at the PAN India level.
There are plenty of other rewards too for those students who perform well at school.
As our team will be reaching out soon for the further process.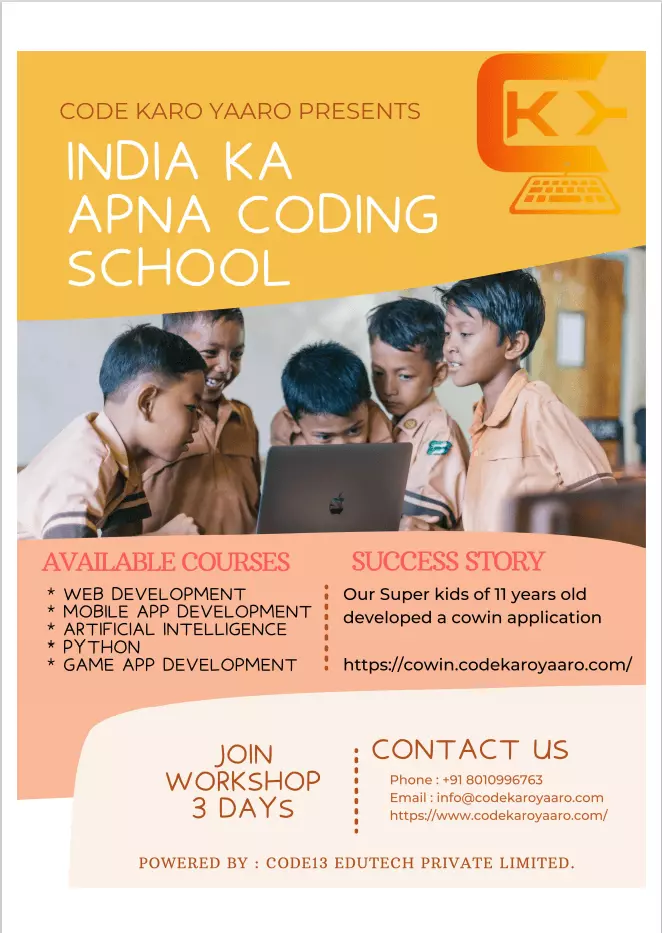 To know more about code Karo yaaro