How to become a Doctor ? A career as a doctor can be regarded as a rewarding and satisfying experience for medical graduates. The journey to start practicing medicine begins at understanding how to become a doctor. If you're interested in becoming a doctor, it can be helpful to learn about what you can do to prepare. In this article, we discuss what a doctor is and explore steps for how to become a doctor. 
A doctor is a qualified medical professional who is licensed to treat patients for various health conditions. A doctor conducts diagnostic tests to determine the conditions affecting their patients and can then administer suitable treatments. Doctors can practice medicine as part of a healthcare institution or as part of an independent clinic. There are plenty of specializations available for doctors which help them acquire a specific set of skills that make them further efficient at treating the patients. Here are some of the specialized fields that you can pursue as a medical professional:
A general physician ensures that their patients are physically and mentally healthy. General physicians can address medical conditions like a fever, a cold, or physical pain. A general physician can also provide references to other specialists who can use their expertise to treat specific conditions. These doctors are often the first ones to call when your family has any health queries, whether minor or major.
A pediatrician is a doctor who specialises in the medical care of children. This includes regular medical check-ups and proper treatments for issues that children generally face, such as a cold and cough. Pediatricians also remain up to date with the vaccinations that must be administered to the kids.
An orthopaedic doctor specialises in the treatment of the complete skeletal structure of the human body. This can include muscles, bones, tendons, ligaments and joints and all the associated nerves that make it possible for your body to move. They typically focus on treating injuries to your skeletal structure or the treatment of a particular disease that can affect it.
A surgeon focuses on diagnosis, treatment, operations and surgeries that are required to be conducted on a patient. This often involves surgically cutting open the human body for treatment.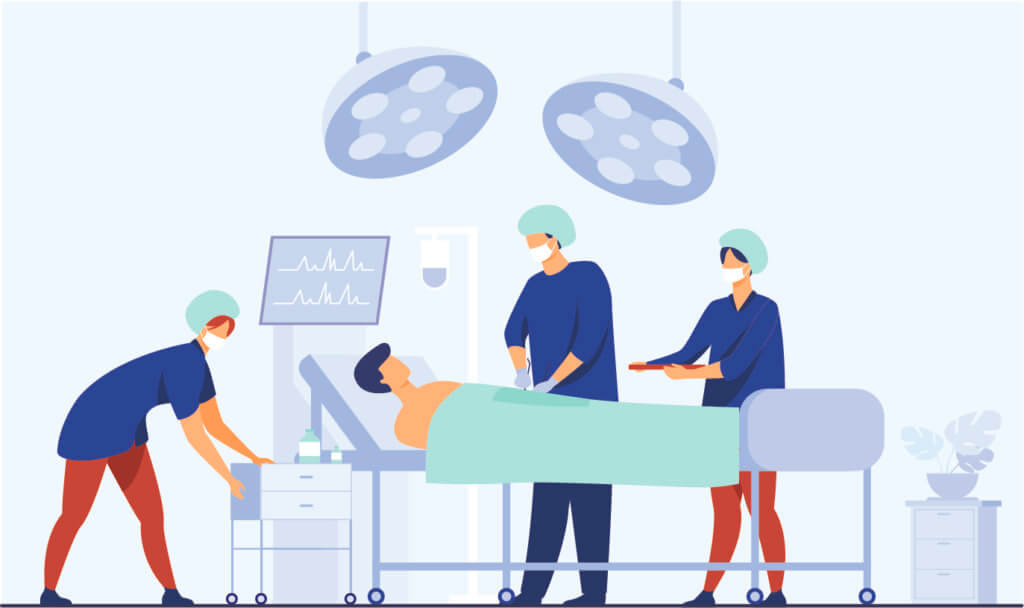 A psychiatrist is a doctor of the human brain. Mental disorders, anomalies and intelligence are typical subjects of study for a psychiatrist. A psychiatrist can treat and medicate most mental health conditions, whether psychological or physiological.
Is it hard to become a doctor?
Becoming a doctor can sometimes be a challenging process since it requires years of study, but the result of the years of effort and study is often worth it. To become a doctor, ensure that you are truly committed to your profession because once you decide to become a doctor, years of hard work and intense study can follow. If you feel committed to becoming a doctor, you can achieve your goal through hard work and dedication. The minimum time period that an individual shall require to become a doctor in India after completing the secondary school is five years and six months.
How to become a medical doctor
1. Complete your senior secondary education
To receive a quality medical education and become a doctor, you must graduate from secondary school with the required marks in all the subjects. In your secondary level of education, you can select the core science subjects of physics, chemistry, and biology, as they are mandatory for admission into MBBS. Knowledge of these core subjects is essential to qualify for the medical entrance examinations like NEET, AIIMS or JPIMER. In-depth knowledge of these subjects can help you secure the desired rank in the entrance examination and gain admission in the medical school of your preference.
2. Appear for an MBBS entrance exam
After you complete your 12th-grade examinations, you can appear for the required entrance exam to secure admission to a medical college. In India, the National Eligibility and Entrance Test (NEET) is the most popular entrance exam, and most medical colleges accept its scores for admissions purposes. JPIMER, AIIMS, Kasturba Medical College, Maulana Azad Medical College and several other colleges conduct their own entrance examinations. Your admission to the medical college can be finalized after you pay the specified fees and submit the necessary documents.
After your time in 12th grade is over, you can apply for MBBS, the first degree in the medical sciences that a person needs to become a doctor. While many candidates do so directly after graduation, you're eligible to apply for the MBBS until you're 25 years old. It's advisable to enrol in medical school within two years of completing your class 12th board exams. The minimum age to be eligible for admission to the MBBS course is 17 years. The minimum time period to become a doctor after completing grade 12 is five years and six months.
4. Complete an internship
While earning an MBBS degree, candidates are usually required to complete a mandatory internship that takes place over one year. During the internship, you can work under the supervision of senior doctors and work with patients who require different types of treatments. In order to be eligible for the MBBS degree, you can demonstrate a satisfactory level of knowledge and skills during the mandatory internship. Some medical colleges have their own hospital wings where you can complete the internship, while others might require you to complete the internship at a specified hospital.
5. Register with the Indian Medical Register
In order to practice as a doctor in India, you need to register with any of the state medical council in India. Doctors who are registered with any state medical council are typically eligible to be registered under the Indian Medical Register. In order to achieve eligibility, you can complete your MBBS degree and an internship from an institute recognized by the Medical Council of India. After registering under the Indian Medical Register, you can start your career and begin practicing medicine in India.
Once you complete your master's degree, you can typically opt for a second masters or even a PhD if you wish to gain more knowledge in the medical profession. Many doctors choose to begin practicing after their MBBS and a master's degree in medical science. When it comes to practice, there are two typical options. The first one involves practicing as an employee doctor in a specific healthcare institution, such as a multi-specialty hospital. The second option is to practice independently in a clinic of your own or under the tutelage of a senior doctor.
Tips for developing your career as a doctor
Once you complete the MBBS medical degree and gain some experience practicing as a doctor, you can pursue a specialization in a particular field of study, such as surgery or pediatrics. It's not mandatory to pursue a specialization to practice, but it can add credibility to your profile. There are two types of specializations after MBBS: a Doctor of Medicine (MD) or Master of Surgery (MS). The doctors that opt for an MD typically become physicians, whereas an MS allows doctors to pursue surgery as their specialization.
Consider a super specialisation
After you have completed your MD or MS, there is a further option available to you in the form of super specialisation degrees. DM and M Ch are the two super specialisation degrees that are available to you. M Ch degree is meant for surgeons, while DM degree is designed for physicians. By acquiring a super specialisation, you can give your career as a doctor a significant boost.
Constantly improve your knowledge
If you wish to excel in the medical profession, ongoing learning is highly desirable. As medical science is evolving continuously, treatments for various health conditions are being updated. Therefore, you shall also continue to upgrade your medical knowledge. You can achieve this by completing various certification courses and attending the required workshops. While this step is not mandatory, it can be a great way to improve your abilities.