INTERNATIONAL DAY OF PEACE
The International Day of Peace (or World Peace Day) celebrated annually on September 21 is devoted to strengthening the ideals of peace, both within and among all nations and peoples. At a time when war and violence often monopolize our news cycles, the International Day of Peace is an inspiring reminder of what we can create together. Peace. Let's give it a chance!
WHEN IS INTERNATIONAL DAY OF PEACE 2021?
International Day of Peace is celebrated around the world on September 21.
HISTORY OF INTERNATIONAL DAY OF PEACE
In 1981, the United Nations General Assembly declared the third Tuesday of September as International Day of Peace. This day coincided with the opening day of the annual sessions of the General Assembly. The purpose of the day was and still remains, to strengthen the ideals of peace around the world.
Two decades after establishing this day of observance, in 2001, the assembly moved the date to be observed annually on September 21. So, beginning in 2002, September 21 marks not only a time to discuss how to promote and maintain peace among all peoples but also a 24-hour period of global ceasefire and non-violence for groups in active combat.
Peace is possible. Throughout history, most societies have lived in peace most of the time. Today, we are much less likely to die in war than our parents or grandparents. Since the establishment of the United Nations and the creation of the Charter of the United Nations, governments are obligated not to use force against others unless they are acting in self-defense or have been authorized by the UN Security Council to proceed.
Life is better in a world where peace exists and, today, we look to those who have been peacemakers and peacekeepers to learn what we can each do individually to make the world a more peaceful place.
INTERNATIONAL DAY OF PEACE TIMELINE
The International Day of Peace was established by the United Nations General Assembly for strengthening the standards of peace. The day is devoted to observing 24 hours of cease-fire and non-violence.
It is more important than ever today to promote peace and open-mindedness for acceptance across gender, race, and territories. Individuals and organizations around the world participate in activities and host events centered on a set theme for the year. Activities vary from private events to public ceremonies, festivals, and concerts sending the message of peace to large audiences.
Educational institutes also take the lead, arranging art exhibitions and lessons for students to discuss how different cultures celebrate peace and to learn about conflict and wars in history so that mistakes are not repeated. On an individual level, people take part in activities like planting trees or setting caged animals free, as every little act helps in spreading the message of peace and love.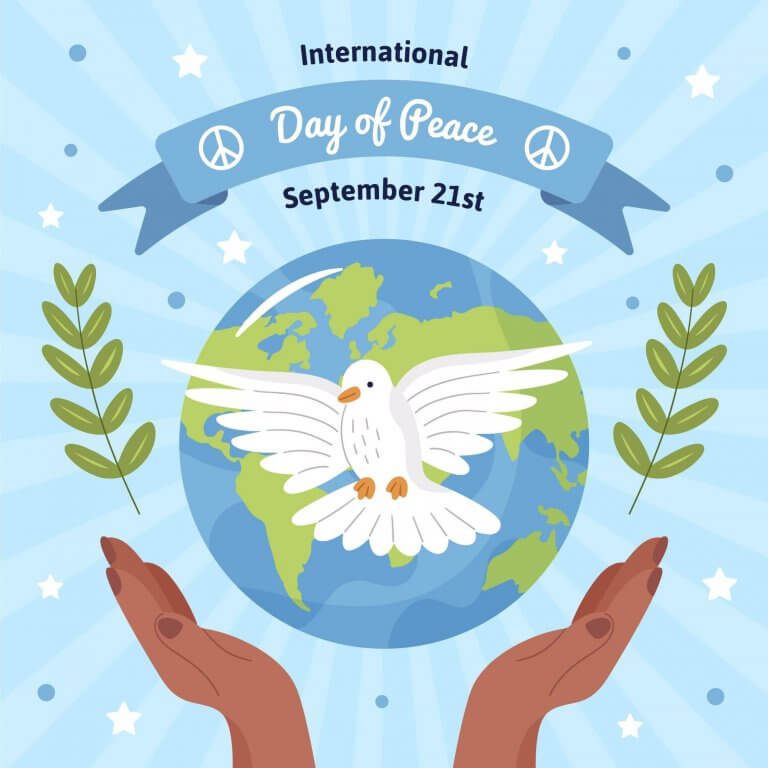 HOW TO OBSERVE INTERNATIONAL DAY OF PEACE
Observe the global "Minute of Silence"

In 1984, the Non-Governmental Organization (NGO) Pathways to Peace inaugurated the Minute of Silence. At noon in each time zone, this observance of silence creates a "Peace Wave" around the world. Individuals, organizations, communities, and nations are invited to participate in this shared and practical act of peace-building.

Host a global peace feast

Bring people together with a 'global' potluck, encouraging your friends and neighbors to share a unique dish from various countries or cultures. Breaking bread together is one of the oldest yet most effective ways to bring peace into your life. Interfaith and intercultural discussions can make the evening even richer.

Foster peace through education

Let peace begin at home with you and your family. Teach your children key concepts that promote peace such as conflict-resolution, peaceful dialogue, consensus-building, and the choice of non-violence.